A Drone's Eye View of Spiti
Naman Shiroha talks about his experience travelling Spiti and also gives a peek into the views he got.
I was fortunate enough to visit Spiti a number of times in 2018 and 2019, before the pandemic brought travel and tourism to a halt. Locked up at home, I feel the urge to travel but also to share my wonderful experience in this golden land.
My first contact with Spiti was an unexpected one. My initial days on Instagram and talking to a few relatives exposed me to the majestic valleys of the cold desert nestled in the north-eastern part of Himachal Pradesh. Turning a few pages of the book, one fine Saturday night I landed in the god's own valley. The advent of the journey was not easy, from multiple attempts to escape Delhi to not being able to convince my parents to allow an 18 year old to travel solo, but I finally ended up mustering the courage to set off on my own.
Nothing you read online will prepare you for what you will go through. It might guide you through the travelling points, the transport, but what lies ahead is something totally different.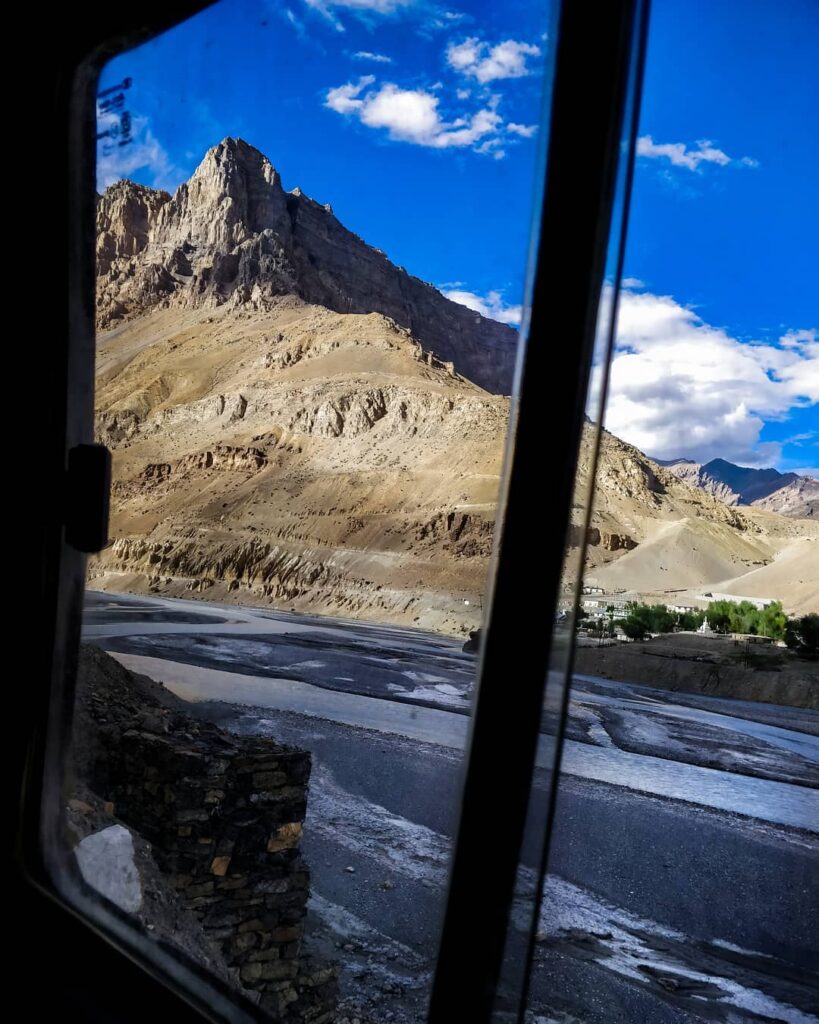 At times, a journey of approx. 30 hours can end up being over 60 hours, once was this case when I had to travel 700 odd kilometers instead of the gruesome 200 kms.
Starting from Delhi, you either end up in Manali or Shimla, based on what roads are open depending on the weather. From travelling on an odd 500 km so-called tarmac road via Shimla amidst the majestic Kinnaur valley or on a 270 km no-road 4×4 adventure via Manali, both end up in the star laden skies of Kaza, the administrative center of the Kaza valley. After being on both the routes multiple times, I can confidently say that both of them are a totally different feeling.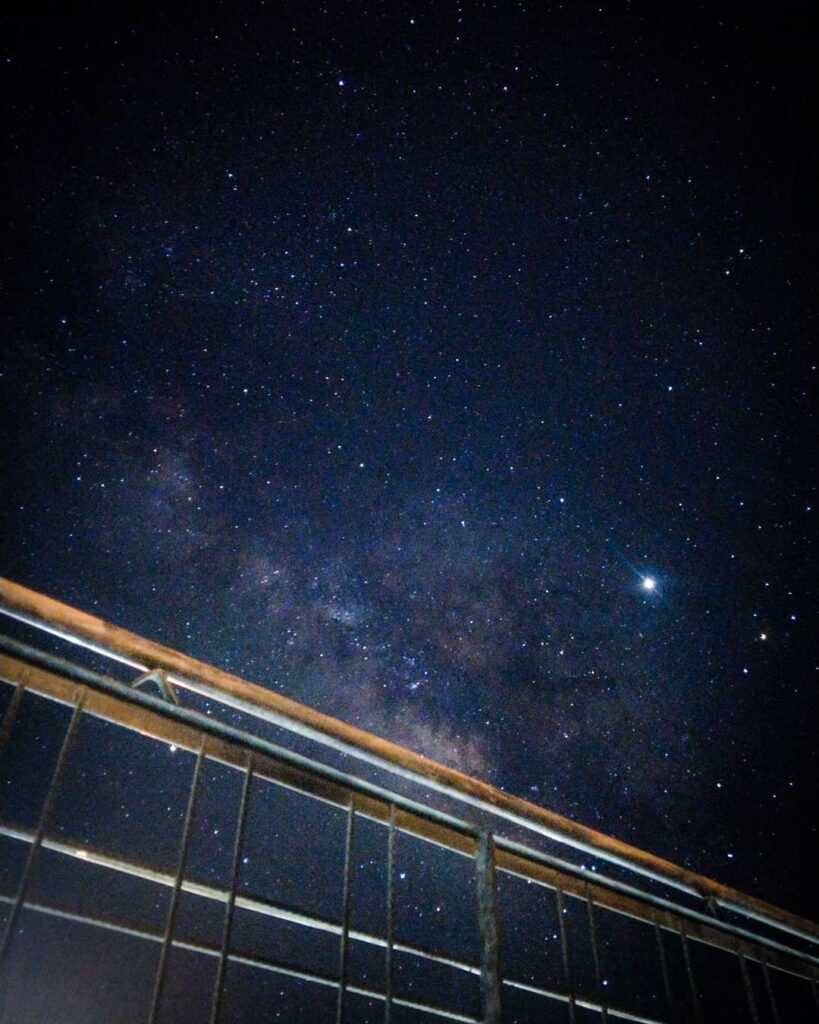 First Foot in the Valley
After a gruesome 10-13 hours backbreaking bus journey, you reach Kaza around 7-8 PM in the evening. If you have never seen stars properly in your life, the moment you step out of the bus is bound to be a memorable one. I remember mine- the moment I stepped out of the bus, loaded with a 21 kg rucksack in 2018, I just toppled over on my back and simply stared at the sky for a good 5 to 10 minutes, until I was scared away by a couple of mountain dogs barking. Entering the night, going to the loo outside the house is a task of it's on; the stars literally scare you.
The next morning, you might wake up with the urge to get some hot tea but instead of enjoying the warmth in subzero temperatures, I suggest you take in the immensity of the mountains around you. Surrounded by 5000m tall peaks on all sides, you won't help but wonder about how small you are in this majestic world.
At a height of 3,800 meters (12467 feet, or well over 2 miles), it took me about a day to acclimatize to the thin air in the region. Walking uphill at a steady pace left me gasping for air each time. It took me another few days to figure out the optimal layers of clothes to wear. The sunrays are strong enough to burn the skin, but the moment you step in the shade the cold hits you.
The Different Faces of Spiti.
The more time you spend on the valley, the more you realize that every mile in every direction leads you to a different landscape. Spiti, a purely Buddhist society, with some of the oldest Tibetan monasteries in the world, is a cultural abode to soak in the calm, depth and spectrum of life and also the human within.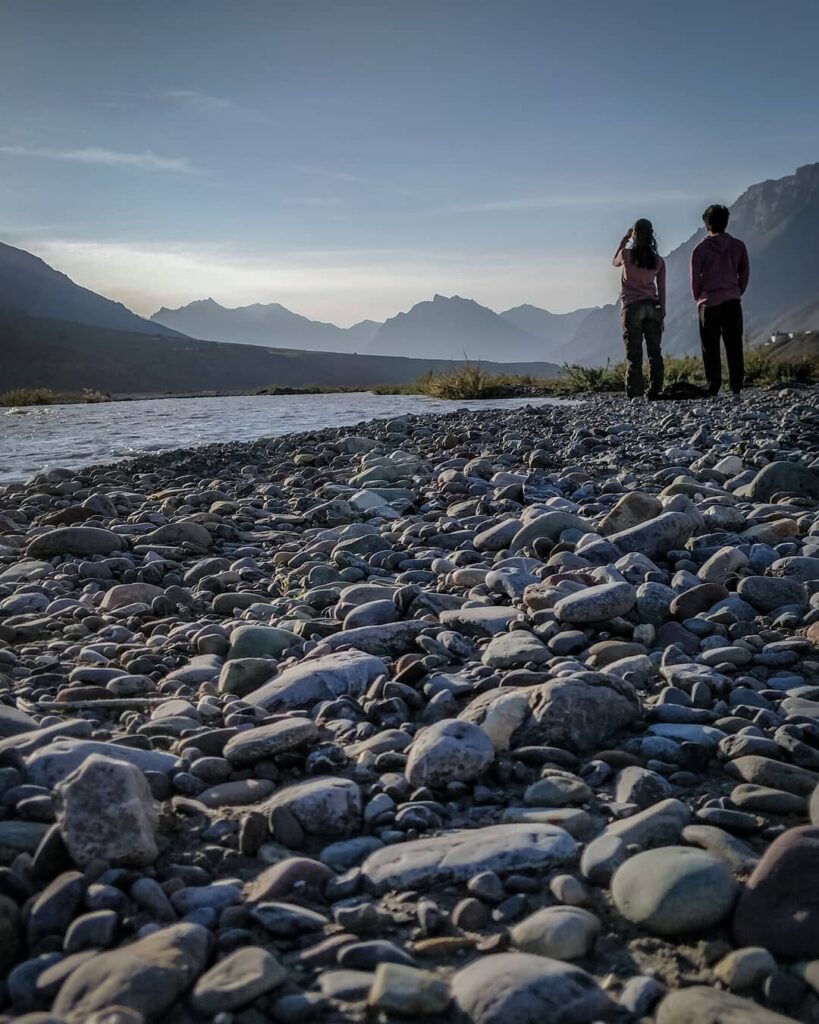 Kaza
The place is a maze of streets, all ending up either in a monastery, or an Italian pizza corner, German bakery or some local cuisine street. A few of my favorite things to do are to visit the Himalayan café, German bakery, or hang out with children in the local government school or with the locals at a shop. My favorite accommodations would be either zostel or the old monk hotel, and both of them became good friends after 6 trips.
A string of little stalls sell local handicrafts, and daily essentials like sun hats and sunglasses. Internet connection through a cyber cafe is also available, by tapping upon the army satellite connection. Internet access at 3,800 meters is a commendable feat and despite its tortoise speed, it allows you to keep in touch with the online world.
The first few days, if you're on a 10-15 day trip, should be spent exploring Kaza.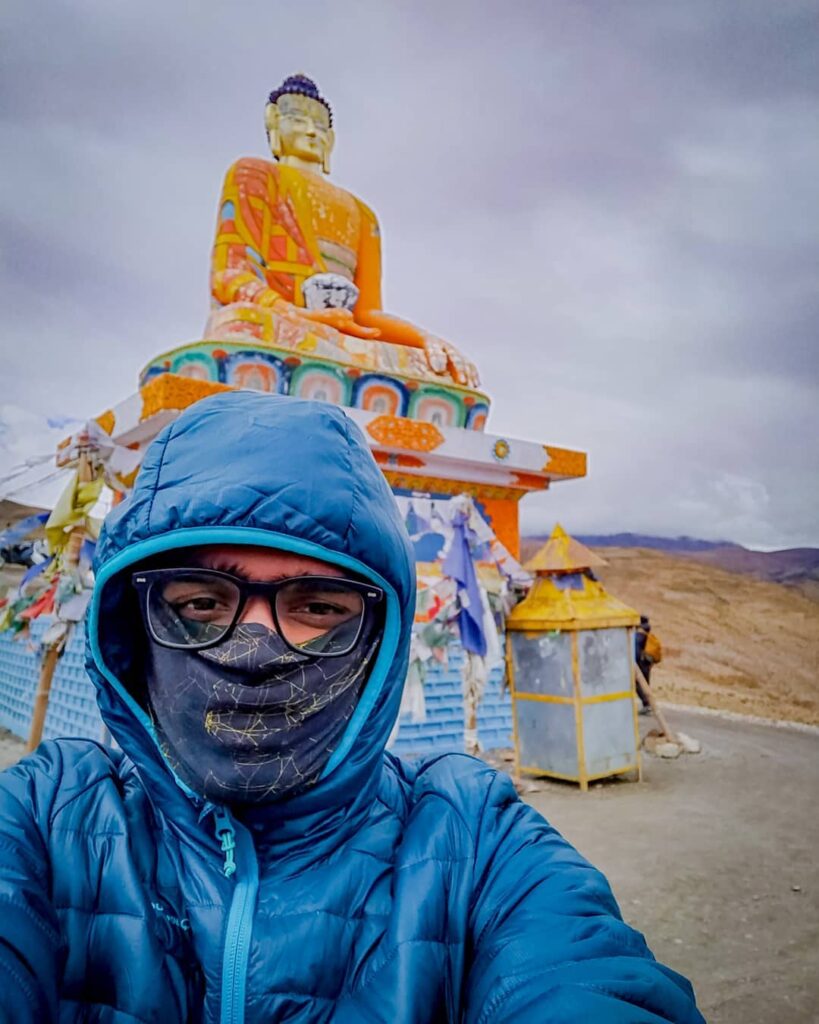 Langza
Usually, Langza is not the first destination people end up going to, because it's one of the world's highest villages.
The landscape is filled with fossils (real fossils!), views of majestic 6000m peaks including Kanamo and Chau Chau Kang Nilda, and the sunset between them. The village barely has a population of 30-40 families, but you could spend days there talking to them, hiking around in search of fossils, sitting in front of the buddha statue, and soaking the majestic mountain energy in.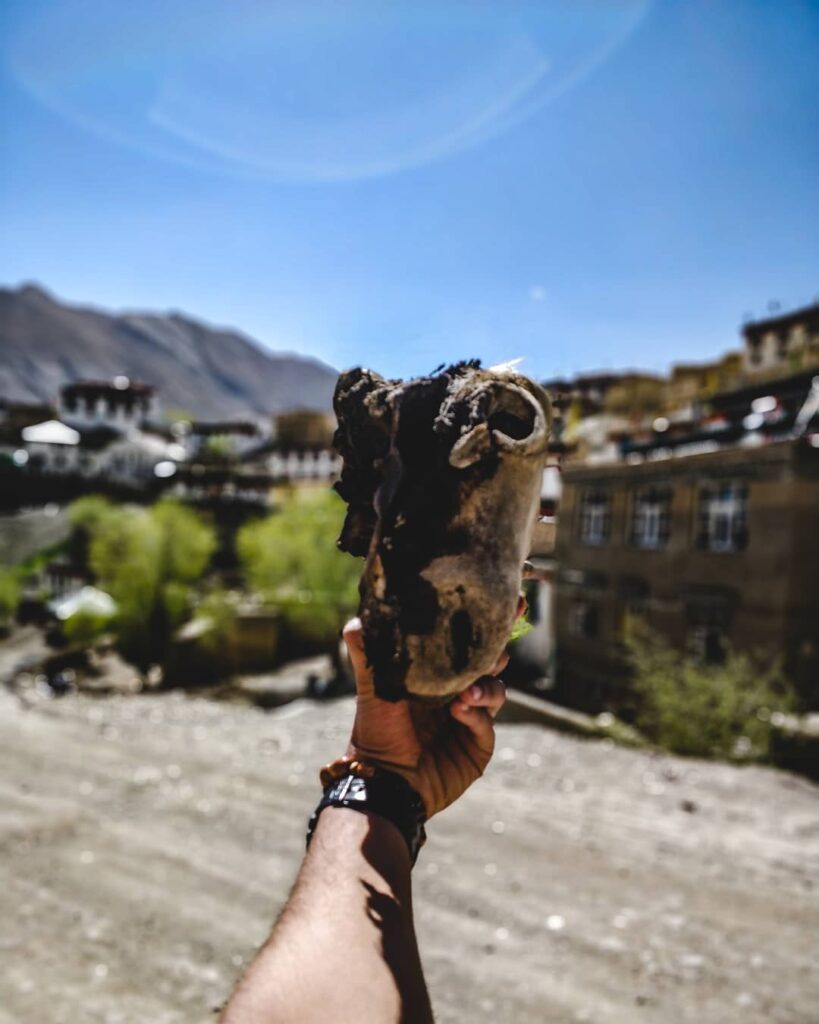 Komic
As mountain kids play on neighbouring rooftops in the background with ADV running around in broad daylight, you reach the highest village in the world. A 6 hour hike from the civilisation of Kaza, Komik has a population of merely 84 people in 13 households.
You won't spend a day without spotting a bunch of Blue Sheep, Red Fox, Tibetan Wolf, and in the winters, hopefully with the mountain god's grace, the much elusive Snow Leopard.
Hikkim
In the neighbourhood of Komic is a small sign announcing the tiny village of Hikkim, where you spend a day writing letters to your loved ones and sending them from the world's highest post office. Hikkim is believed to have the highest functional post office in the world – though I hear the postman would rather be left in peace.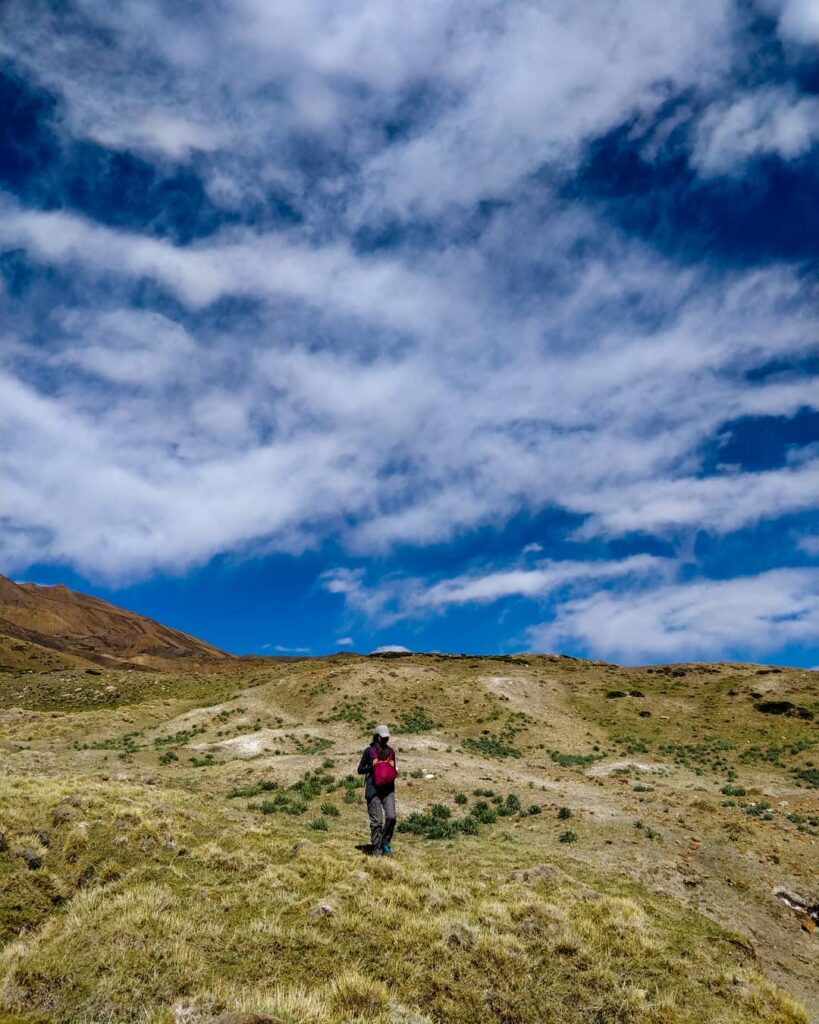 Kibber
My favourite village in spiti, a hard choice, is the land of snow leopards. As Asia's highest village, Kibber boasts of majestic farmlands and also the base camp to my favourite mountain, Mount Kanamo- the white beauty. As you end your days with a smoke and local alcohol, sitting on a cliff café, looking at the locals chatter, children playing football, and the sun setting down, you're forced to think about life in depth and the unknown.
With these being the major tourist attractions, going deep into the local cultures and interacting with the locals will lead you to discover mind boggling rituals and places. A few of them are :
A mummified monk, a literal mummy now, in the village of Gue, about 100 odd kilometres from Kaza.
If you're as lucky as I was, as this is not open to the rest of the world, an exorcism exercise to talk to god about the valley's weather and crops and wishing for a good year ahead.
Hidden lakes and frozen waterfalls, revealing a hidden monastery, claimed to be residence of the Pandavas back in the era
Multi-colour mountains, which are formed mainly because of the iron compounds in the soil, in one of the extreme corners of the valley, connecting you to passes like Pin Bhabha and Pin Parvati.
Even with a short stint in Spiti, you subconsciously develop a close bond with this golden land. You become accustomed to the extreme weather, the infinite hospitality of the locals, and even the lack of communication with the world outside.
Spiti has taught me the immediate need to care for its fragile ecology, so it can be preserved in a way such that 10 years from now, travellers will be able to appreciate its raw beauty the way I did. After countless interactions with the locals, the businessmen and the lovely people at Spiti Ecosphere, I understand that every small effort counts. Every less plastic bottle used and disposed counts. Every voice discouraging their usage counts. Every blog post that urges travellers to switch to eco-friendly alternatives counts. Every responsible travel choice counts.
Here's how you can help as a traveller visiting Spiti Valley:
Pledge to say NO to plastic bottled water in Spiti. Most homestays in the upper villages of Spiti also have water filters, and cafes in Kaza have filtered water installations, refill and reuse.
Before you book your tour, hotel, homestay or guesthouse in Spiti, ask in what ways they contribute to environmental conservation in Spiti. The best way to make businesses care is to demand it as their potential customers.
Volunteer with Spiti Ecosphere – in Spiti or virtually – to take this project to the next level.
Carry your non-biodegradable waste back from Spiti, and dispose of it in a big city where some form of waste management or recycling is in place. For me, doing this puts in perspective how much plastic waste I generate, and inspires me to consume less plastic-wrapped junk food!
Encourage your fellow travellers to do all of the above.