Crescendo 2020
Crescendo 2020, the annual cultural fest of our college, happened on the 26th and the 27th of February, organised by the Student Council and the Crescendo Team with the theme of the beginning of a new decade. The event was a culmination of the relentless hard work of the organising team for over 2 months.
The pre-Crescendo event got an upgrade from the usual movie screening in the auditorium when Rahul Subramaniam, the iconic comedian of AIB fame performed in the college on the 25th of January in an event sponsored by OnePlus at DU. Grandeur, the college consultancy cell organised a case study competition, Invicta offering front-row seats as prizes to the winners and OnePlus also organised an Instagram giveaway for the same. The team also managed to obtain a great line-up for the two days with comedian Rahul Dua of Comicstaan fame on the first day and DJ NYK, one of India's top DJs for the final day. While Rahul Dua saw a full house in the auditorium, DJ NYK had a more underwhelming turnout, however, the general opinion of the students was positive for both the performances. A Prom Night was also organised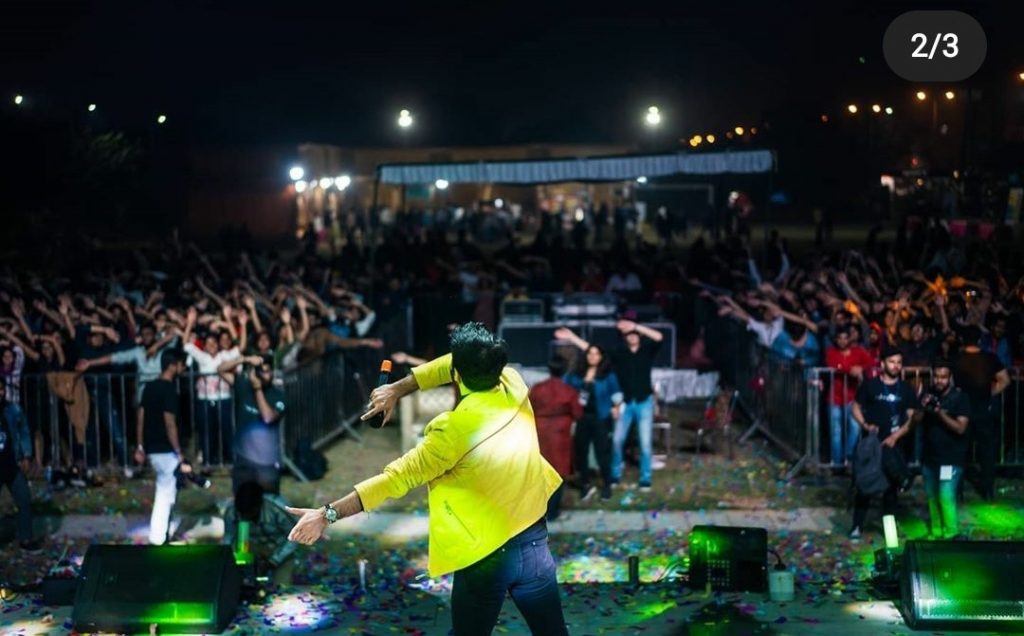 For the performing arts, Dhwani, the music society organised its annual event "Octaves" where they hosted multiple teams from across the DU circuit for Indian classical, Western acapella and bands, which was spread across 3 days from the 25th-27th. Fourth Wall Productions, the stage play society also organised the finals for their theatre festival "Raasa" screening two of their own plays "Fake Palindromes" and "Miraj" along with select plays from the rest of the circuit. In addition, Verve, the street play society also kicked off its annual event "Manthan" by their annual production "Jal-Hit main Jaari" whereas Blitz hosted "Encore" where the dancers of the circuit showed off the best of freestyle.
The Literary Society also conducted Bibliotheca under which they organised a slam poetry event as well as a human library, while Kriti, the fine arts society hosted "Alla Prima" with a wide range of events ranging from rangoli making to meme-making. "Vistas", the fashion show was also organised wherein fashion societies across DU showcased their creativity through the dresses they designed.
All-in-all, the event definitely attracted the crowd and the hospitality of CBS was much appreciated by people from other colleges. The Student Council managed to deliver a great fest in terms of security as well as the quality of artists, a trend we hope to see continue in the fests to come.